What's Good in 2019
There's been a lot to get you down in the news lately, and don't worry, we'll have plenty of time to talk about that on another day.  But for this post, at least, let's talk about some things that LGBTQ+ folks and communities can look forward to in 2019!
2019 will be the 50th anniversary of the Stonewall Uprising!  (You can read more about that story in Andy's post.)  Many events are being planned in New York to commemorate the anniversary, and this will be the first year that World Pride has been held in the United States.  This could be a great year for Bay Area people to see what Pride is like on the East Coast, and to visit some of these landmark places  (but you might want to start making plans now, as it's sure to be overwhelmingly busy).  Read more about the events here:  NYC World Pride 2019
There are several upcoming LGBTQ+ movies that look to be great in 2019:
 I am personally most excited for Rocketman, an Elton John biopic – he was one of my heroes as a teenager, both for his musical genius and his commitment to helping others.  It features Taron Edgerton as Elton John, with a supporting cast that includes Bryce Dallas Howard, Richard Madden, and Jamie Bell.  It will release on May 31.
Ammonite does not yet have a release date, but it looks promising – Kate Winslet and Saoirse Ronan will star in the story of Mary Anning, a British paleontologist who fell in love with the wealthy woman for whom she worked as a nursemaid.  Anning's scientific findings made major contributions to the way we understand prehistoric fossils, and so, while little is known about her life, it's great to see her being remembered and recognized as the awesome queer intellectual that she was. Saoirse Ronan did a fantastic job in Mary, Queen of Scots, so I would expect the same of her in this period piece.
There will be a sequel to Luca Guadagnino's 2017, Call Me By Your Name.  No release date yet. Readers of the book will know that there is material that the first movie did not cover, but there are rumors that the author may write more – they are already working on a script.
Rafiki was initially banned in Kenya, where LGBTQ people still face discrimination and persecution, but the country then decided to allow limited screenings so that the film might be considered for the Oscars.  It has received glowing reviews ever since.  The story focuses on two women who find love and comfort from one another amidst political turmoil and ethnic strife, and it will be released more broadly beginning on April 19.
Scotland is building LGBTQI education into its curriculum, and this will be mandatory in all public schools by 2021.  Parliament approved all 33 recommendations that were made by the LGBTI Inclusive Education Working Group, which included things like making sure teachers are trained to discuss issues of sexuality and preventing bullying of LGBTQI students.  This is a great stride, since a similar plan was rejected only a couple of years ago in 2016.  Scotland will be the first country to mandate LGBTQ+ education.
In the U.S., the United Methodist Church will hold a conference in February to discuss revisions to their official position on human sexuality.  Internally, both clergy and members have been pushing back against exclusion of LGBTQ people for several years – like, for instance, when Rev. Val Rosenquist married a gay couple in 2016 despite the rules against it.  Let's hope that the positions of love and inclusivity prevail.
If you're following the run-up to the 2020 elections, Kirsten Gillibrand has announced her candidacy, vocally supported trans rights, and has been endorsed by Kyla Patterson, a Jewish transgender activist.
And, despite her PR team's ambivalence, there are some excellent Patricia Clarkson memes floating around.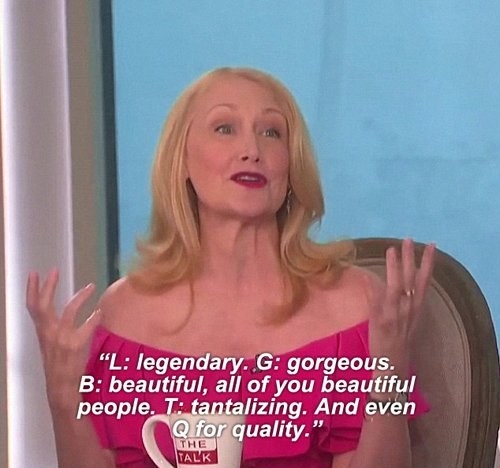 What are you looking forward to in 2019?
Katherine Fox is the Blog Coordinator at InQueery.